Channel 4 Expeditions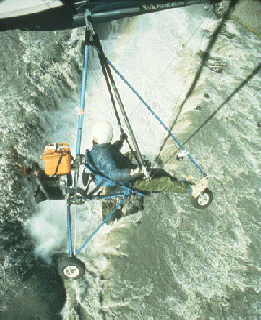 Dettifos is the largest waterfall in Europe
Iceland Breakthrough
Paul VanderMolen conceived and carried out the plan to cross Iceland using Kayak and Microlight. He had met Gerry Breen in Paris at the completion of the 1982 London to Paris Microlight Rally. Gerry owned the first Microlight Flying School in Britain. Preparations for this trip included the design, fitting and testing of the first floats on a two seat microlight. During the expedition, the craft was also fitted and flown with skis for the passage across the Vatna Jokull glacier. Southdown Sailwings of Brighton were the manufacturers of the microlights used. Called the Puma Sprint, and designed by Roy Venton-Walters, the Puma was the first microlight aircraft to pass the stringent air worthiness requirements of the CAA, named Section S.
An award winning 51 minute documentary was made for Channel 4 named "Iceland Breakthrough". There is also a book published of the same name which tells the whole story of this bold, daring, imaginative and often dangerous journey.
---
Breakthrough Disability
After the successful completion of Iceland Breakthrough, Paul VanderMolen tragically was diagnosed with, and died from leukaemia. Not wanting to lose the momentum of Paul's ideas and plans, his Dad Jack set up the Paul VanderMolen Foundation with the following aims:-
To assist Leukaemia Research and Treatment
To enable disabled adventurers to realise their "outward bound" aspirations
To assist explorers in the search for new expedition techniques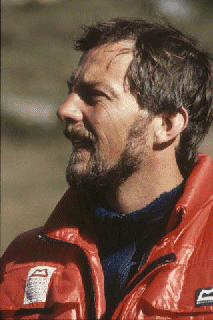 Protective clothing donated by specialised manufacturing companies was gratefully received
While Paul was in hospital, he was planning an expedition involving both able bodied and disabled explorers, using microlights and kayaks in a journey across a glacier and down a wild river in Iceland, to experience similar conditions to those encountered during the now famous ICELAND BREAKTHROUGH.
This amazing adventure was completed in 1986, led by Paul's very good friend Mick Coyne, and was filmed for Channel 4 and shown under the title "A Different Frontier".
---
Microlights make very good expedition tools. They can be very quickly flown in to a site, can be dismantled and manually carried away, used for quick transportation of personel and make ideal aerial viewing platforms.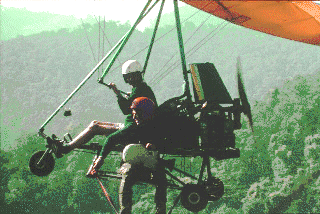 This camerman had a special "outside" platform built!
---
Sponsorship
The wing of a Microlight can act as a gigantic flying billboard and the whole craft is very photogenic, making it ideal for placing a companies logo. An opportunity now exists for a sponsor to become involved with our projects and have their name prominently displayed on the aircraft and team uniform. Please contact Simon Baker or telephone 01283 716265 for further information.
---
Return to Homepage.